About the Senior Choir
The Senior choir currently has 170 members. Drawing singers from Chester and the surrounding district the choir gives five concerts each year in the beautiful location of Chester Cathedral.
The three principal concerts in November and in the Spring are performances of major choral classics, oratorio and similar works with professional soloists and orchestra.
The choir engages professional soloists and orchestral players to perform the works in their entirety to a very high standard.
In May the concert comprises a number of smaller works, usually performed with accompaniment from the cathedral organ. This concert also forms the basis of the overseas tour programme.
The choir makes an overseas tour every two years: recently to Ghent (Belgium), Venice, Prague, and Dresden and Leipzig.
In May 2008 the choir visited Budapest and gave three performances: in St.Matthias Church in Buda, Eger Cathedral in Eger, and St. Stephen's Cathedral, Pest.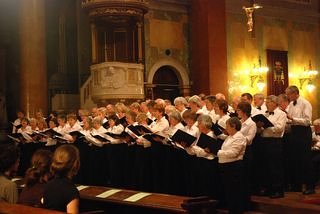 In addition to these concerts, the choir gives two performances of Christmas music in Chester Cathedral in December. These two Christmas concerts provide an opportunity for all the family to celebrate the festive Season with us.
You will find full details of future choir concerts elsewhere in this web site.
Admission to the choir is by audition; either in September, at the start of the new season, or in January, at the beginning of the second session of the season.
Full details of admission procedures can be obtained from the Membership Secretary, Tel: 01352 757526 or from